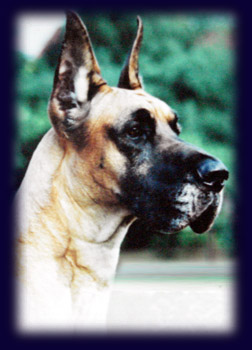 Beautifully Photographed By Mrs. Rosemary Hubrich (New Zealand)
Quinn has been our special dog and I sincerely thank Mr. Raymond Ray Goldstone for considering us for this wonderful boy. I owe all my success for Quinn to Ray. Quinn came to live with us from the Famous Paquestone Kennel in Canada when he was 7 months old. The first weekend Quinn was shown as a 8 month old puppy he was awarded back to back BPIS awards and we were fortunate to win his first award under renowned breeder Judge Mrs. Rosemary Hubrich (New Zealand). Quinn was the # 1 Great Dane three years in a row with numerous board placing and many BIS wins. He has been an excellent show dog and an outstanding producer. He has since then produced numerous champions, BIS, BPIS winners. We are proud that he is also the sire of the winner of the BHAIRAV TROPHY of the Kennel Club of India's Reserve Puppy of the Year 2006-2007 from our breeding...................
BPIS PAQUIN'S ELAN THE ELIMINATOR. Quinn retired from the show arena when he was 4 years old as the #1 Great Dane, however his presence is still felt with his lovely get.




List of Champions Sired by Quinn


Quinn's Picture Pedigree
(Click on the dogs name to view Picture)